If engineering was a religion in India, it would be the fifth most popular one.
In our country, people become engineer first and then decide what do they want to be in life. But, engineers are definitely one of the most amazing people. They have continually lived in a pressure cooker for a good chunk of their lives and have experienced life in all of its glory.
India produces about 1.5 million engineers every year. That's more engineers, annually than twice the population of Iceland. And it's way more engineers than the United States and China produce every year. Combined. But our beloved engineers have a hell lot to deal with whilst achieving the so-called toughest degree. Below are some awesome good points which almost all engineers can relate to:
1. Victim Of Conspiracy
As soon as you begin with your engineering 1st year, you can't help but blame your parents and society for tricking you into studying engineering. For the entire past two years of studying science in 11th and 12th, the world told you something like this- "Beta bs do saal mun laga kr padho aur acche se college main admission lelo fir to life set hai." And we all know very well how did it go! Studying 8 semesters and 44 subjects, only engineers know how they survived those brutal four long years of engineering.

Source: me.me
2. Family Electrician
Just because you are pursuing engineering, your family and neighbours think you can fix everything. Apparently, the degree comes with a lot of expectations and one of them is fixing every electrical appliance at home like fan, television or the air conditioner.  Sure you have studied it, but it was so theoretical that you can't differentiate between the various type of screwdrivers let alone fix the main fuse.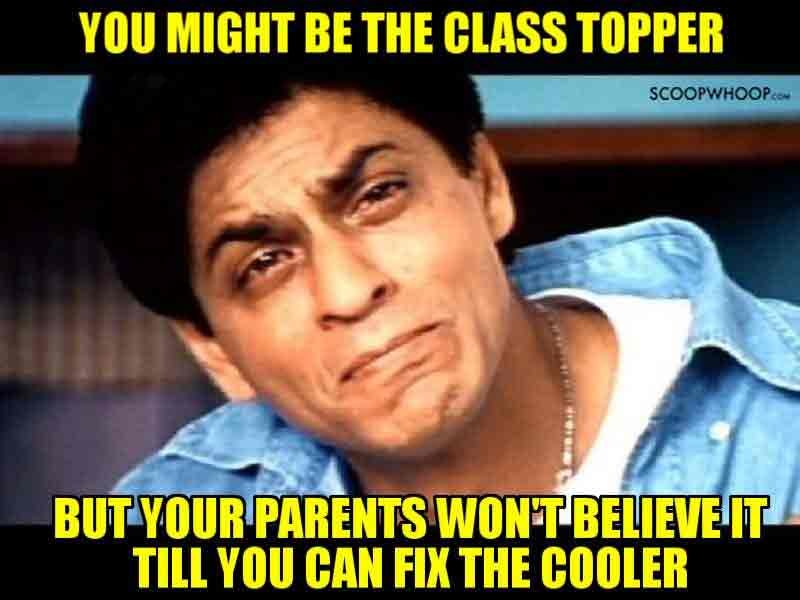 Source: Scoopwhoop
3. The word 'Back' takes a new meaning
If you asked us what 'back' meant before we started engineering, you would have gotten a lame shrug of the shoulder. After the rigors of engineering, it is a word of immense conflict. Not getting a back in an exam was as important as having a back to help you out in fights.
4. All Nighters Ring Any Bell?
Guess who invented all-nighters? Of course, Engineers. Every engineering student has this realization somewhere mid-way through the semester exam prep that no matter how many holidays you get to prepare for any subject, the syllabus was so vast that it can't be completed. And with a little help from cigarettes, coffee, tea and some old monk, you managed to stay awake for that D-day and cram enough question and answers to successfully get those minimum passing marks.
5. Hostel Shenanigans (Boys vs Girls)
If you are a guy, a regular night for you would be being stoned, looking into the abyss like ceiling with Pink Floyd blaring over the speaker. Post-trip, you may find us scrounging for munchies in various hostel corridors.
If you are a girl, you can relate to doing up your hair, or a facial touch,  or dressing up, without any party lurking in the immediate future. All this so that you can put up those perfect selfies with your homies on social media.
6. More Exams than Days
You may forget the birthdays of your parents, your girlfriend(imaginary) or your own but as an engineer, you will never forget an exam day. You don't need to be an engineer to guess why (pun unintended), because every day is exam day. Sometimes it feels like there are more exam days than actual days.

Source: Machine Design
7.  Alcohol Repellant to Alcohol Dependant
We usually come into an engineering college repelling the very thought of alcohol. With humble beginnings from mugging up every word  of our 5th-grade science textbook, to acing every exam that life throws at us, we progress to knowing the rate card of all the alcohol brand available in the local Thekka. It's a metamorphosis for the win.
Despite having a humongous syllabus, irritating professors, lack of inspiration (read, girls) and expectations as big as the ocean! Engineers are truly Superheroes without capes!